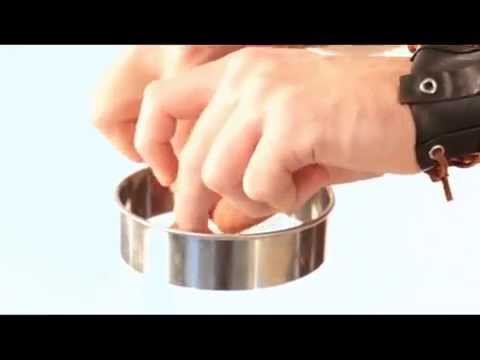 Sneak peeks, aquavit, and trailers, oh my! To get in the mood for the upcoming NYC Food Film Festival, this post is packed with pre-Festival goodies.
For those of you not yet acquainted with our super-short food film Oh My Rødgrød!, it is an ode to the traditional Danish dessert Rødgrød med Fløde (red berry porridge). Watch the trailer above for a sneak peek. The full film premiers on October 25 at the "Untitled I" event at the NYC Food Film Festival.
My co-producers and I had fun with the Nordic food trend as well as Danish humor to create this film. Oh My Rødgrød! plays with the rugged nature of Nordic history and the delicate techniques used to create the modern-day Rødgrød med Fløde available at Aamanns-Copenhagen in TriBeCa. Both the Rødgrød med Fløde and the 6'6″ Viking Chef Rasmus Kristensen (actual chef and creator of this dessert) are the stars of the film. By the way, my co-producers are my husband Troy and my talented friends Alexis Weed and Matt Meyer.
And don't worry, Viking Chef Rasmus Kristensen will be at the screening of our film at the NYC Food Film Festival, helmet and all. The chefs at Aamanns-Copenhagen are also providing an exclusive Oh My Rødgrød! aquavit for the after-party on October 25. This berry infused vodka cocktail will be served in an herb-rimmed glass. I snapped a photo of it steeping during our pre-festival dinner at Aamanns-Copenhagen this past Sunday.
Be sure to join us for the premiere of Oh My Rødgrød! during the "Untitled I" event of the NYC Food Film Festival on October 25. "Untitled I" features the art, craft, and inspiration behind the world's greatest food and wine, as well as the tastes and presence of legendary winemaker Michel Chapoutier. I hope to see you there!
ChopSizzlePop readers get 10% off all events at either the NYC or Chicago Food Film Festivals. Use CHOPSIZZLEPOP10 at checkout here.
I'm thrilled to share the article "Food & Film: Together at Last!" written by my food journalism hero David Rosengarten (multiple James Beard award-winning food journalist, tv personality, and cookbook author) about The Food Film Festival and our film.
For more photos, "like" our Facebook page.